Thermal bridges and condensation risk assessment
Can you size the loss?
With Mold Simulator you can easily calculate and visualize in few minutes the heat loss due to thermal bridging in walls, roofs, pillars, slabs, windows openings and any other building structure.
Mold Simulator combines the accuracy of an advanced fem modelling software with many valuable functions that greatly simplify the thermal analysis process through few simple steps.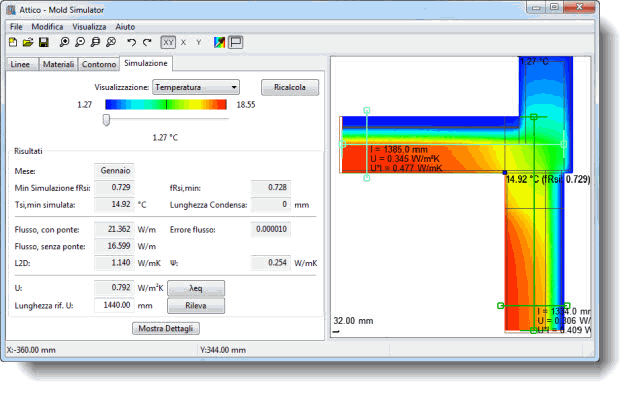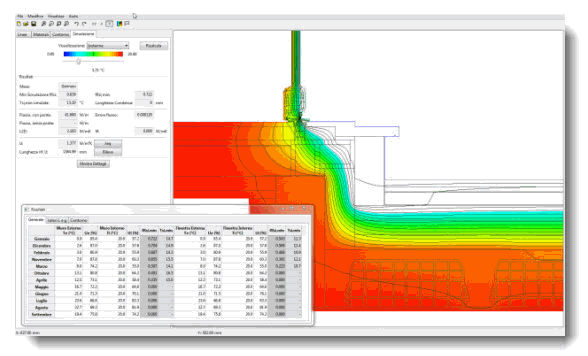 Will it be any mold?
With Mold Simulator you can readly assess the risk of mold growth or surface condenstation in a building structure.
Why waiting that an infrared camera shows those problems and conceptual mistakes that you can easily prevent during the design phase?
With Mold Simulator you can also make a Glaser analysis to understand if there will be any interstitial vapour condensation inside the structure, on the contact surface between material layers.

---
All you can do with Mold Simulator:
calculate the thermal characteristics of building elements, windows and ceilings according to ISO 10211:2007 standard.
once you have specified material properties and boundary conditions, using the finite element method you can find the distribution of temperature and heat flow over the cross section.
compute the linear thermal transmittance PSI of the thermal bridge
find areas of condensation in walls and slabs, according to norm UNI EN ISO 13788-2003
perform Glaser analysis to check for interstitial condensation (and eventually evaporation) according to the standard ISO 13788-2003
compute surface thermal resistances according to UNI EN ISO 6946 norm
define internal design temperature according norm UNI EN 13788
use standard material libraries from norms UNI 1745 and UNI 10351, or create your custom material library
import your projects from DXF files
visualize many different computation results: isotherms, heat flow, condensation areas, meshing triangulation, boundary conditions and many others
print a comprehensive report of the analysis
[jbutton icon="download" size="xlarge" link="http://www.dartwin.it/download/demo-viewers/" color="blue"]Try now Mold Simulator: download here a demo[/jbutton]
Really so easy? Watch this VIDEO

VIDEO 1. Thermal bridge calculation for a floor junction
---

VIDEO 2. Thermal bridge calculation for a pillar
Finite elements modelling: Its never been so easy!
THERMAL BRIDGES CALCULATION
There are many different types of thermal bridges. For this reason in MOLD SIMULATOR there are two different tools for assessing the PSI linear thermal transmittance of a thermal bridge. Both methods are very intuitive and give a precise value of the PSI value with only few clics of mouse.
With MOLD SIMULATOR you are no longer limited to consult a generic thermal bridge catalogue or to use approximate calculation methods: you will obtain the precise (*) value of your thermal bridge, with the actual materials you are using in your drawing.
(*) MOLD SIMULATOR is validated according to norm ISO 10211:2007 (Thermal bridges in building construction – detailed calculations)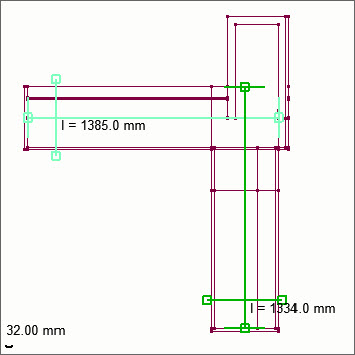 ---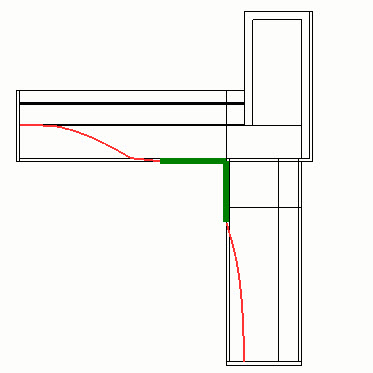 WILL THERE BE ANY MOLD IN THE CORNER?
For each of the twelve months in a year, the minimum temperature factor fRsi, min is computed at the internal surface (see ISO13788:2003). This value is the bare minimum to avoid mold formation. The worst month is the month with the highest value of fRsi, min. The finite element simulation is performed using using the boundary conditions (internal and external temperature) of the worst month. Once the simulation is completed, all the surfaces having a simulated fRsi inferior to fRsi, min are at risk of mold formation.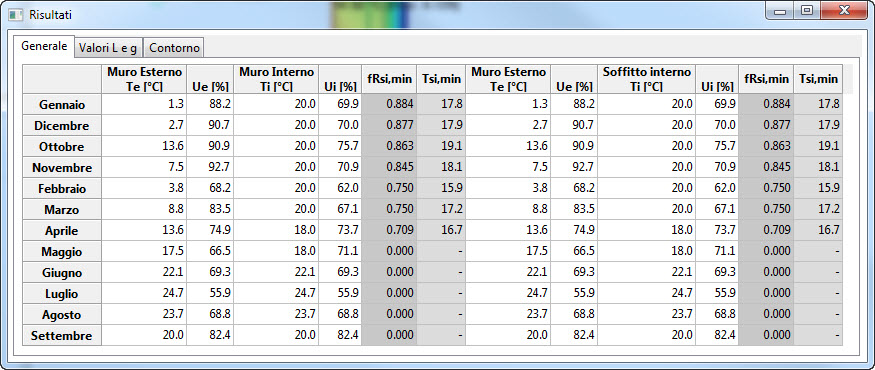 ---
CONSENSATION INSIDE THE WALL
The Glaser diagram is helpful to asses the risk of interstitial condensation between the internal layers in a building construction. MOLD SIMULATOR calculates for each month any vapour condenstaion and evaporation inside the structure and shows with different optional views on a Glaser diagram the quantity of interstitial condensate accumulated in any layer.
Calculation is performed according to the standard ISO 13788:2003.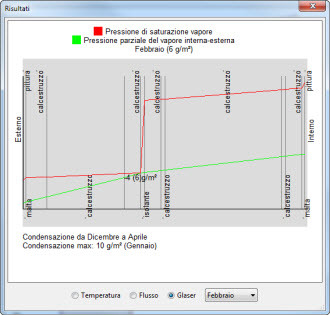 Just four steps…


and in few minutes you will obtain a complete thermal simulation of your building structure: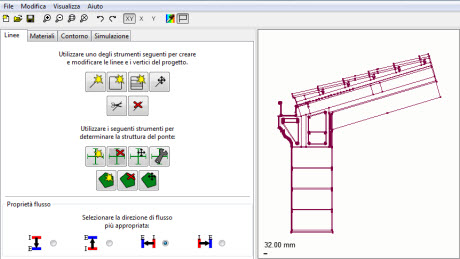 1 –
Import the dxf file with your drawing and apply the tools to delimit la thermal bridge area.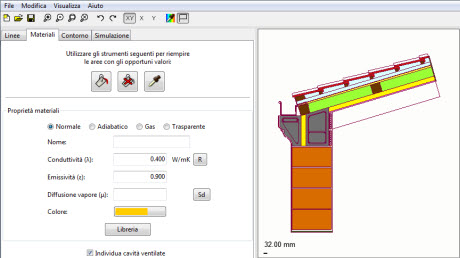 2 –
Paint the areas with the materials value. You can pick data from Mold UNI library or create your own library.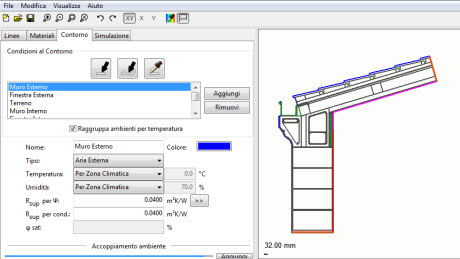 3 –
Assign boundary conditions with your desired data or using the automatic setup with norm values.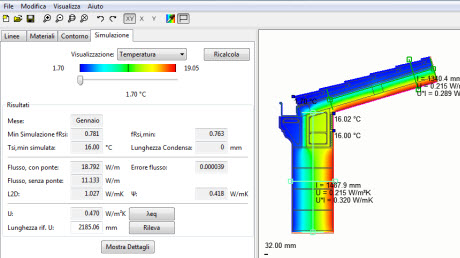 4 –
Start the finite element simulation: in few seconds you will have all the thermal analysis results with several view options: temperature, isotherms, heat flux, condensation and others.
Other info:
[jaccordion size="normal" theme="blitzer" active="0"]
Languages::
Mold Simulator is available in English and Italian.You can choose the preferred language inside the program.
[jacc/]
Versions::
Mold Simulator is available in the following versions:

LOCAL : for single computer.
SERVER monouser: software is accessible from any point in the network, but can be used by one only user at time.
SERVER multiuser: for multiple simultaneous access from your network.
ACADEMIC:license for educational establishments.
[jacc/]
Minimum system requirements::
- Windows 98/2000/XP/Vista/W7
- Pentium III 600 MHz
- 512 MB RAM
- Graphic card 3D (32MB)
- 100MB free hard disk space
[jacc/]
Installation and Activation::
We will send to the User a link where he can download the software directly from our servers. No disks will be delivered.
You can choose among two activation methods.
Activation with Software Key (included in the price)
1) When you start the program the first time in your computer you'll see a 8 digits code: copy&paste this code in a mail and send it to us.
2) We return you a mail with the activation code: copy&paste this code in your computer and software is activated in your computer.
3) Activation is computer-related: if you need to run the software in another hardware you can transfer the license to another computer via internet.
Activation with Hardware Key USB (optional – extracost €130,00 delivery included )
1) If you choose this option you will receive through express carrier a pre-activated USB key.
2) Activation is Key-related: digit the secret PIN code that we have mailed you separately and you can run the program on any computer by moving the hardware key.
[jacc/]
Updates::
UPDATES
Updates are available free of charge on our website www.dartwin.it. User will be informed via mail when an important update is released.
NEW VERSIONS
Upgrade to new versions, with important and substantial modification of the software, will be offered at a special price to the existing users.
[jacc/]
Support::
Support for installation and start-up, if required, is included with any purchased software via remote connection.
[/jaccordion]
[jbox color="yellow" title="FREE VIEWER"] MOLD SIMULATOR VIEWER is a free software for viewing, printing, and sharing projects made with Mold Simulator.
[jbutton icon="info" color="orange" size="large" link="http://www.dartwin.it/sw/mold-simulator-viewer/"]Read here[/jbutton]
[/jbox]

[contact-form 5 "Info1"]

---