FRAME SIMULATOR – for WINDOWS & CURTAIN WALLING
A universal tool
You can use Frame Simulator to calculate the Uf thermal transmittance of a frame, but also the Ug value of a glazing unit, the Up of a panel or the UCW transmittance of a curtain wall.
With Frame Composer module in a few minutes you will have the Uw transmittance of an entire fenestration system. Use Frame Simulator also to automatically calculate the linear transmittance PSI for spacers or for thermal bridges between panels and frames.
Fast and safe
Unlike other multifunctional thermal software, Frame Simulator was specifically designed for the calculation of thermal transmittance according to ISO 10077 norms. We deliberately avoided unnecessaries sophisticated features, which would make the program more complicated. This works to the advantage of immediacy and precision of use: Frame Simulator automatically adopts all the parameters and the calculation criteria specified by the norms and therefore it leaves the user less room for possibility of errors.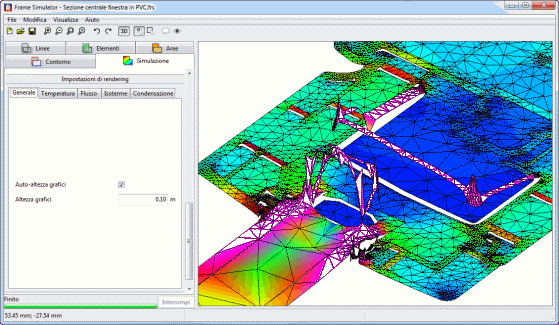 Calculation
Frame Simulator performs simulations of heat transfer through sections with a two-dimensional numerical method compliant with ISO 10077-2:2017 (fem).
Frame Simulator makes use of several advanced algorithms to maximize precision and minimize calculation process.
Frame Simulator calculates also the dew point for the internal ambient and it shows the areas where there is likely to be surface condensation on the window.
Complex fenestrations and blinds
With FRAME COMPOSER module you can easily calculate the total thermal transmittance U of windows, doors, curtain walling and any other framed structures. The software works both in parametric mode, where you can define the four nodes' (top, bottom, right and left) with the Uf values obtained with Frame Simulator and in freehand mode, where you'll be able to draw any kind of structure or import it from a dxf file.
FRAME COMPOSER allows you to perform also the calculation of the additional resistance caused by shutters or curtains.
---
EXTENSIONS
add more power to your Frame Simulator with optional plugins
IMPORT/EXPORT PACK
Use this plugin to import your projects made with LBNL Therm in Frame Simulator. Add Frame analysis to your Therm projects without the need to redesign them.
ISO 15099
With this plugin you will be able to implement the ISO 15099 specifications for the calculation of cavities, the setting of boundary conditions and to compute glazing systems and filling mixtures.
This plugin is required to perform calculations according to the American NFRC 100 standard
WHAT'S NEW IN FRAME SIMULATOR 6
Frame Simulator 6 is compatible with projects made with all previous versions.
MAIN FRAME SIMULATOR CHANGES – Version 6
Increased the response speed of the interface;
New documentation completely online;
New automatic update system;
Views can use project-relative positioning;
Views can be positioned and resized by means of a rectangle;
Flow direction arrow in the viewport;
Detection of "floating" cavities inside other cavities;
Type of heat transmission for each single cavity;
Advanced label display options;
Automatic font resizing for tables within labels;
Word wrap text in user-defined size labels;
Tool for rotation of vertices and lines;
Rendering option to display maximum temperature points of the edges;
Visibility of minimum and maximum temperature points depending on the type of contour;
Calculation of double glazing based on inclination – EN673;
Possibility of arithmetic operations with tags;
Shortcuts for tags;
Transparency level in the rendering parameters;
Sampling analysis;
Materials EN 13556;
Psi calculation method with external file;
Predefined packages for 10077 panels of various thickness;
Special material for glazing simulation given the Ug value;
Specific tag for classification of the roller shutter box cavity;
Ability to update all views with the same name as the selected one;
The unit of measurement of the ruler tool is now selectable;
Saving of graphical results also in image format;
Being able to print a frame around the reports;
Fully updated and improved print reports.
MAIN FRAME SIMULATOR CHANGES – Version 5
further increase in calculation accuracy
possibility of using segments with heat generation
new report templates with 300 DPI print definition
faster and smoother interface
ISO6946 automatic cavity detection
new edge detection algorithm with increased resistance
support for Web License activation mode
possibility to set the length of the section elements via keyboard
possibility to define a specific temperature for the "blackbody radiation" flow
new "very low" simulation quality level
new graphic interface (Frame Composer)
new reporting system (Frame Composer)
textures in materials (Frame Composer)
verification of the legal Uw limits based on the climatic zone (Frame Composer)
MAIN FRAME SIMULATOR CHANGES – Version 4
faster and more accurate simulation algorithm
64bit versions
new and much more flexible reporting system
completely renewed interface
use of templates for setting calculation parameters
new results display options
library of views and reports
MAIN FRAME SIMULATOR CHANGES – Version 3
material data by clicking on results viewport (with active sampler)
segment control with zero emissivity
conductivity values ​​of materials in labels
new arc drawing mode
various bug fixes
structure background color setting in flow direction display
introduction of the gravity vector
label saved with the view
label position stored with the view
automatic update
size label: independent dot position
not only be able to concatenate text tags in labels
table type tags that can be inserted into labels
color temperature gradient scale in tags
update advanced results window by clicking on different simulation
possibility to adjust the transparency of colors and textures
to be able to set the 3D extrusion thickness of the standard segment
open label menu by double clicking on the label
function looks in the library
automatic project saving
offset command in lines
select multiple materials in the library
gas mixtures in the double glazing
ability to create elements from areas
management of drawing blocks
possibility of deactivating areas
insertion of user axes in the drawing
improvement of isothermal quality
Therm files importer (optional paid plugin)
ISO 15099 functionality (optional paid plugin)
customization of default materials by type
ability to delete a vertex in the middle of a segment
system for alignment and proportioning of images in reports
Rsi sampling on contours
customizable triangulation color
MAIN FRAME COMPOSER CHANGES – Version 3
possibility of modifying the assigned materials
library of materials in the "freehand" method
default color settings
additional columns results
"padlock" button for drawing mode (parametric or freehand)